Introducing the new
ScreenPort SDI Pro
Introducing the new
ScreenPort SDI Pro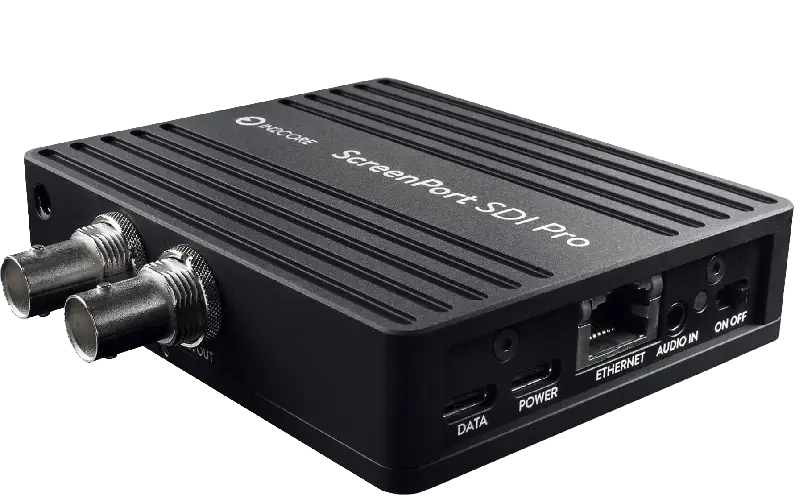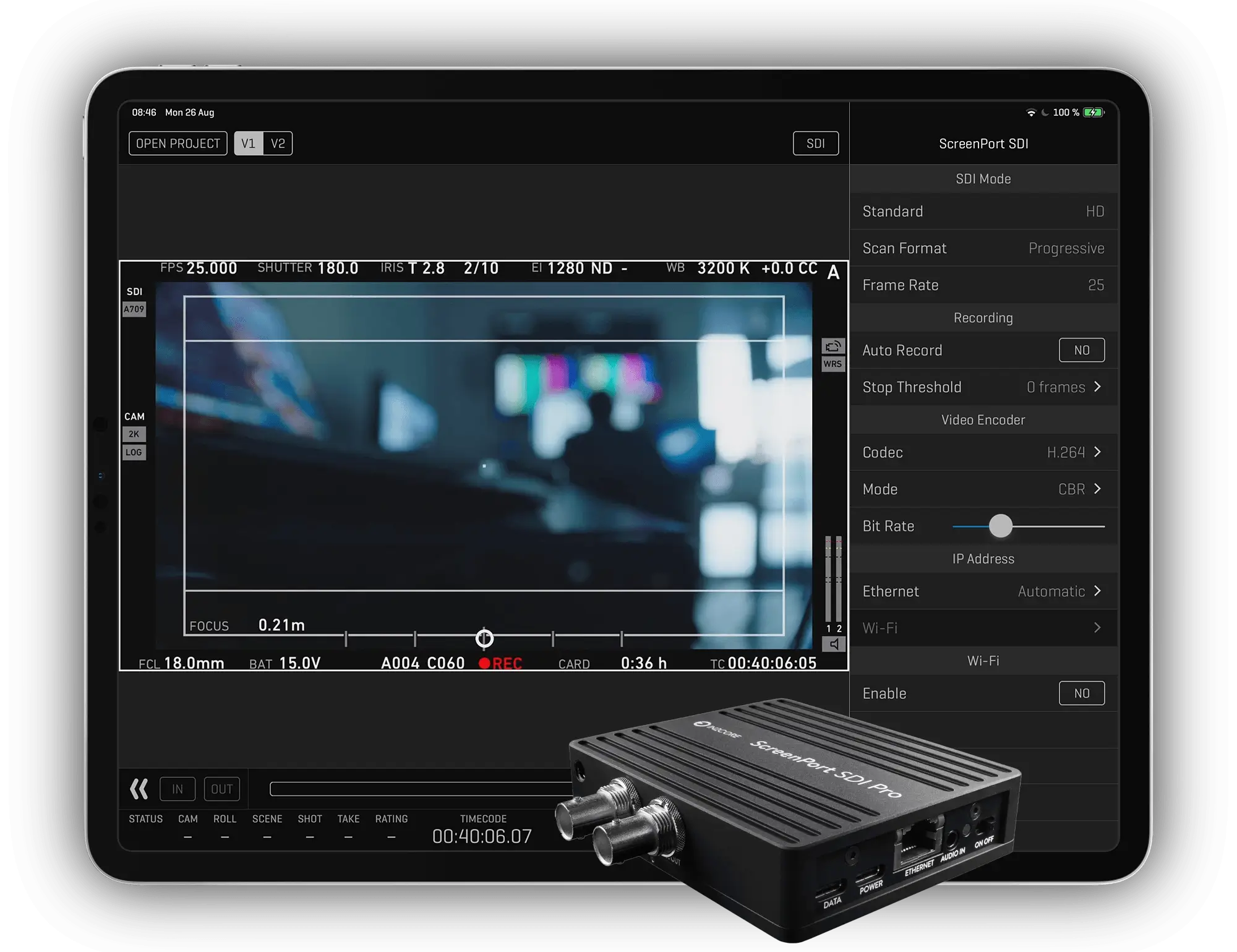 Rugged machined aluminum housing. Local and Cloud Streaming, Camera to Cloud with MetaData
Input SDI video directly to iPad or iPhone, auto record clips, stream local or remotely. Upload recorded clips directly to Qtake Cloud for remote playback, syncing with 1st and 2nd units or send files directly to Post and VFX.
That's just for starters..  ScreenPort SDI Pro, its a game changer!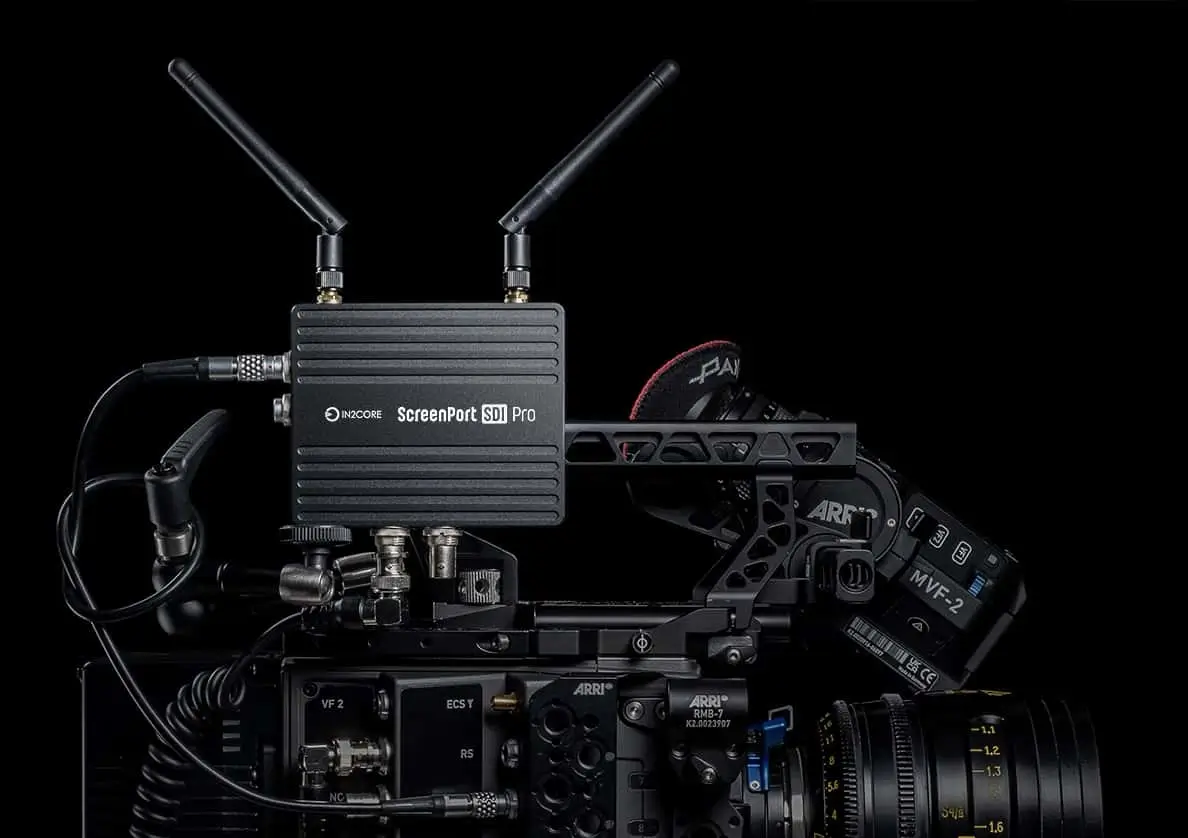 Standalone Mode
Using industry-standard power connectors and a rugged metal enclosure, the ScreenPort SDI Pro was designed to be mounted on the camera to capture video, audio, and metadata from SDI output and stream it over the local network to multiple clients. If there is no Wi-Fi on the set, the ScreenPort device can be switched to Access Point mode to create its own wireless network.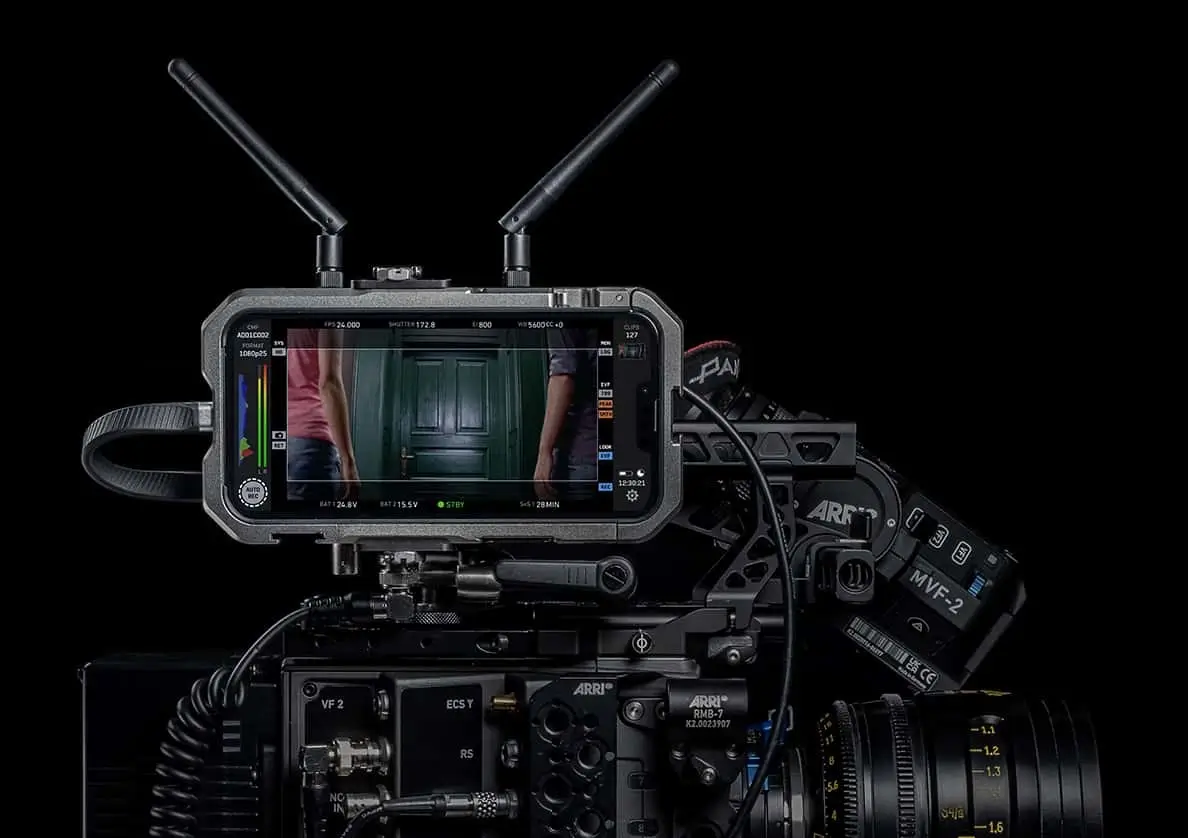 Host Device Mode
When connected to an iOS device, the ScreenPort SDI pro provides ultra-low latency streaming over the Internet and proxy media upload to QTAKE Cloud project to make the recorded content instantly available to remote collaborators. Using camera SDI flags, the whole process of recording and cloud sharing can be automated and doesn't require an extra person to handle operations.
Local Streaming
Using Ethernet or Wireless network connections, ScreenPort SDI Pro streams low latency signals from camera to Multiple on-set devices.
SDI Auto-Record
The ScreenPort SDI Pro detects the record flag embedded into the SDI signal to provide automatic proxy media recording to an iOS device.
Access Point Mode
If there is no Wi-Fi infrastructure available, the built-in Access Point mode can be used for a standalone operation, connecting up to 8 devices.
Camera to Cloud
Thanks to the auto-recording and metadata capture, the ScreenPort SDI Pro can be used for entirely remote workflow for your iOS devices.
Remote Streaming
Secure stream with embedded metadata can be extended to any remote iOS device using the QTAKE Cloud platform.
SDI Metadata Capture
In addition to auto and video, the ScreenPort SDI Pro captures important camera metadata, such as time code, filename and lens metadata.
Powered by the Camera
Standard Lemo connectors provide convenient power supply directly from the camera, without the need for additional battery sources.
Rugged Metal Case
ScreenPort SDI Pro features a black anodized aluminum case and a standard 1/4″ – 20 thread for easy mounting and heavy-duty workloads.
Video Village in the Cloud
When paired with an iOS device, ScreenPort SDI Pro turns into an unmatched video collaboration tool. Using QTAKE Monitor app, live-streaming can be extended to the Internet, bringing on-set monitoring to remote clients. Additionally, automatic recording and client-side playback provide a truly remote video village experience. All captured assets include camera metadata and allow users to add their own clip-based and frame-based notes, collecting all information in the QTAKE Cloud, ready to be pushed to post-production.
Small or No Crew
ScreenPort SDI Pro is a perfect solution for small projects that have no space and no budget for video assist rig and on-set monitors. In standalone mode, ScreenPort device can create a Wi-Fi network and stream live camera signal to personal devices. When connected to an iOS device, it can automatically record all takes with slates and annotations to provide efficient clip browsing for instant playback. Using QTAKE Cloud, recorded clips can be automatically synced with editorial for the fastest possible roundtrip.
Unscripted Production
Documentaries, interviews and other non-fiction productions now have an amazing tool for live monitoring and instant review, whether used locally or over the Internet. With a single iPad, filmmakers can monitor up to 9 cameras at the same time to check the framing, exposure, eyelines or any other aspect of the video production. Using built-in scopes, 3D LUTs and other effects, ScreenPort SDI Pro can replace expensive and heavy equipment and offer the most comprehensive tool set in a most portable way.
Independent Script Supervisor
One of the most important roles on the set of any film or TV production is the Script Supervisor, the person responsible for continuity, slating, eyelines and many other tasks, seeking coherence between the shots. Using ScreenPort SDI Pro, supervisors can receive a wireless feed from the camera to their personal devices, making them independent of the video village. In addition to audio and video, the stream from ScreenPort contains time code, filename and other metadata, adding valuable info and screenshots to their reports.
Video Input / Output
3G-SDI
3G-SDI loop-through
Audio Input
3.5mm unbalanced stereo / balanced mono
Data Ports
Ethernet
Wi-Fi (2.4/5.0 GHz, 802.11 a/b/g/n/ac)
USB-C
Power
USB-C Input 15W (5VDC/3A)
LEMO 2-pin Input/Output 18W (6-18VDC)
Physical
111 x 108 x 23 mm (4,37″ x 4,25″ x 0,91″)
240 g (0.53 lb)
1/4″-20 mounting hole
4x M2.5 mounting holes
Bitrate
CBR or VBR
Adjustable from 1Mbps to 40Mbps
Control
Software control over USB-C or network
Operating Frequency
2400 – 2483.5 MHz
5150 – 5850 MHz
What's in the Box
ScreenPort SDI Pro device
Two dual-band Wi-Fi antennas
Power adapter with international plugs
LEMO to LEMO power cable
D-Tap to LEMO power cable
SDI to SDI video cable
USB-C to USB-C power & data cable
USB-C to Lightning power & data cable
Protective hard case with foam insert
Upgrades
Free firmware updates
In-app purchases
Get the right ScreenPort for the job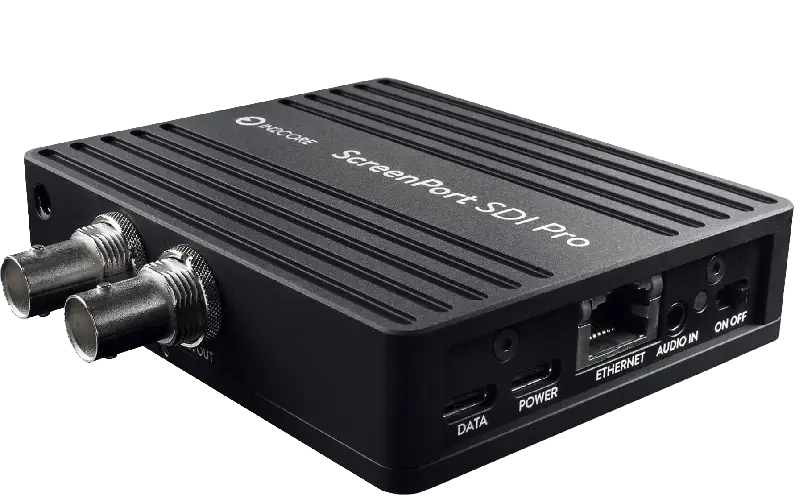 ScreenPort SDI Pro
High-performance 2.4 / 5.0 GHz Wi-Fi
Streaming up to 8 clients
Additional analog audio input
SD, HD, and 3G-SDI video capture
Camera mountable metal case
Camera powered
MSRP $1,699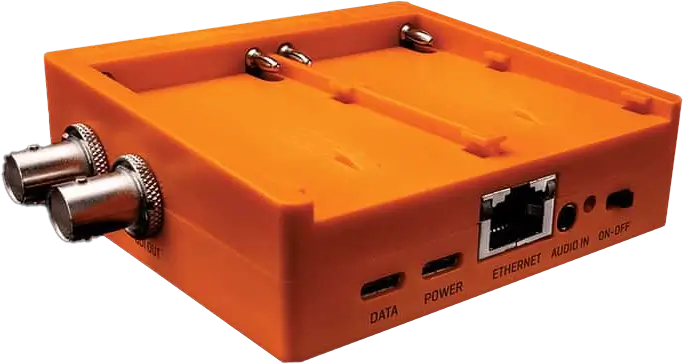 ScreenPort SDI+
High-performance 2.4 / 5.0 GHz Wi-Fi
Streaming up to 8 clients
Additional analog audio input
SD, HD, and 3G-SDI video capture
Lightweight case
Battery powered
MSRP $1,399
Most Popular ScreenPort